MAGZO Screen Repair Tape, Help You Save Money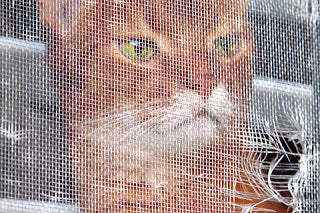 I need to buy a new door screen every few years in the summer. Because I have a cat and he is one naughty boy, he usually ripped a crack and poled a hole at the screen door. I'm really not willing to buy a new screen, it's a waste of money !
  How can we repaire the screen without cost too much money? Here is my recommendation for you who are meet the same trouble.
    I choose the MAGZO screen repair tape. I will show you what it can do. The most important thing is, which can save your money that earned from hard work. The whole patch of size 2"*74.2" will only cost you $6.99, with this competitive price, I feel MAGZO basically doing a charity.  If you buy a new screen door or a new window mesh, it usually cost about $40, but now you ca buy this repair tape, under $10, it's a very good deal! 
MAGZO screen repair tape is made of strong fiberglass, which is durable, and fit with every type of mesh product. I always like an easy installation way, MAGZO screen repair mesh does that, for the small hole or a small crack, you can use it to paste, so easy. If the hole or the crack is too large, how can we deal with that ? Don't worry, there are repair string and a looper in package, sewing it up with repair string and looper first, then use the screen repair tape to reinforce it. Anyway, it's out of my expectation!